Members' Pet Memorials
This page is dedicated to our beloved companions that have now passed on.
Use the A - Z links below to read memorials by companion name.
---
A B C D E F G H I J K L M N O P Q R S T U V W X Y Z
---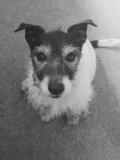 Basil
23 Jan 2001 - 23 Mar 2017
God saw you getting tired and a cure was not to be, So he put his arms around you and whispered 'Come with me!' With tearful eyes we watched you, and saw you fade away, And although we loved you dearly, we could not make you stay. Your golden heart stopped beating, your digging paws now rest, We miss you and we love you, Baz Wiz you were the best!
Owned by Kim Partridge
---
More about this page
Gold Members can add memorials of their loved ones that have sadly passed away.
If you haven't already joined as a Gold Member please click here for details >
Struggling to cope with pet loss?
Blue Cross are there to support you. They provide a confidential telephone and e-mail support line service that offers emotional support and information for anyone experiencing pet loss.
Call: 0800 096 6606 or email pbssmail@bluecross.org.uk