Members' Pet Memorials
This page is dedicated to our beloved companions that have now passed on.
Use the A - Z links below to read memorials by companion name.
---
A B C D E F G H I J K L M N O P Q R S T U V W X Y Z
---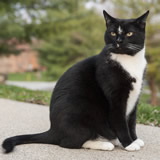 Ambrose
18 Feb 1976 - 28 Apr 1987
You were a friend and a brother. You are gone but not forgotten.
Owned by Adam Yeadon
---
More about this page
Gold Members can add memorials of their loved ones that have sadly passed away.
If you haven't already joined as a Gold Member please click here for details >
Struggling to cope with pet loss?
Blue Cross are there to support you. They provide a confidential telephone and e-mail support line service that offers emotional support and information for anyone experiencing pet loss.
Call: 0800 096 6606 or email pbssmail@bluecross.org.uk