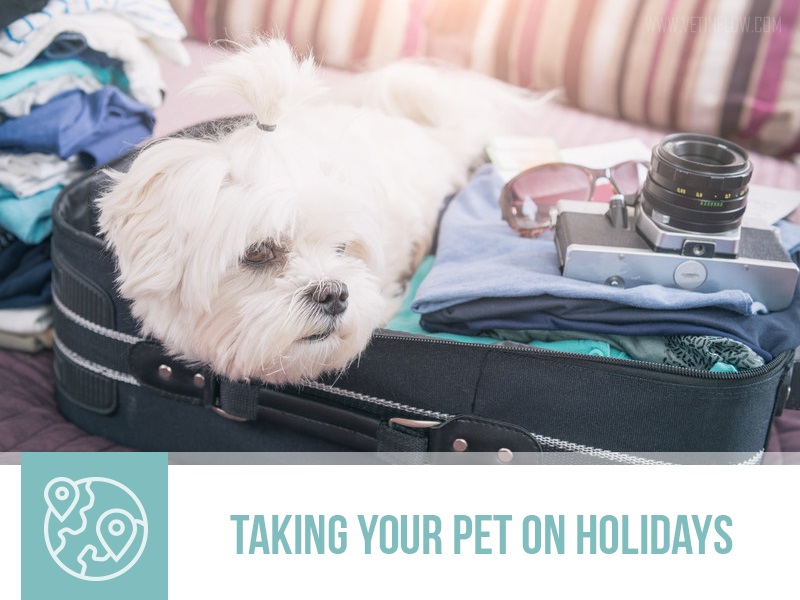 Summer vacations are always fun but can be even better with the company of your furry friend! If you are planning to take your pet with you on holidays check out this list to help you prepare for the upcoming adventure.
1: Plan ahead.
If you want to have a stress-free holiday with your pet then this is the way to start.
2: Make sure your dog responds to basic commands.
It is important for dogs to be familiar with and respond to simple commands such as sit, stay, come and settle down. Dogs are friendly social animals by nature, but not all people love dogs like we do. It is important to respect other people's personal space so that everyone can enjoy their relaxing time.
3: Schedule a check-up appointment with your vet.
If you want everything to go smoothly on your holiday, you should take your pet to the vet to ensure that he or she is healthy and able to go on this journey with you. This appointment will be important to check:


Your pet's health status;


Electronic identification (microchip);


Passport and other documentation (if needed);


Vaccination status;


Worming treatments status;


Flea/tick treatments status;


Other treatments or tests that may be needed (this is especially important if you are travelling to a foreign country).


If your pet has motion sickness, your vet can prescribe some medication to make your pet more comfortable during your journey.
4: Booking.
When booking a place to stay you should always check if pets are allowed. If the answer is yes, there are still other things to verify:


How many pets are you allowed to take? This is important if you have more than one pet.


Is the pet allowed to stay in the room/bungalow/cottage by himself? If not, do they provide a pet sitter?


Is there enough space for your pet to run and exercise?


Are there any restricted areas where your pet is not allowed?


5: Itinerary planning.
If you want your furry companion to be part of your adventure, make sure you visit places that are pet-friendly. It is also recommended to get the contact information of a local vet just in case something happens (e.g. bee sting allergic reaction).
6: Packing!
Make a list of all the items you have to take with you so that nothing is left behind. The list should include: food and water bowls, your pet's bed, your pet's toys, poo-bags (or litter tray), your pet's lead and collar with identification tags, your pet's food and treats, medication and documentation. Many of these things can be bought later on but pay special attention to your pet's food. Keep in mind that sudden changes in your pet's diet can cause digestive upset.
7: Plan the journey
If your pets are not used to car rides, it's a good idea to take them on short trips before the big one so they can get accustomed with the experience. It is also very important to keep your pet in a crate or secured with a dog harness for safety reasons. Make sure you make frequent stops along the way for bathroom breaks, for you and your pet to stretch your legs and to get some fresh air. Don't forget to keep a bowl with you so you can offer your pet some water. Remember to never leave your pet locked inside your car alone, even if it is in a shaded area and with the windows open.
If you and your pet are flying, make sure to check all the airline's recommendations.  For more information, you should also check
https://www.gov.uk/take-pet-abroad
.
8: Get settled.
Try to make your room/cottage/bungalow feel like home. Find a place to put your pet's bed, bowls and toys. A walk is the best way to explore the new environment and get acquainted with the new space. Dogs are creatures of habit so, if possible, stick to their feeding and walking routines.
9: Keep your pet safe.
Although you might love the idea of allowing your pet to explore freely and have some fun, you should always keep an eye out to see that he or she doesn't get into trouble. Be especially careful with cliff edges, streams, wild animals, poisonous plants and other potentially dangerous things that your dog might chew and swallow.
Enjoy your holidays!