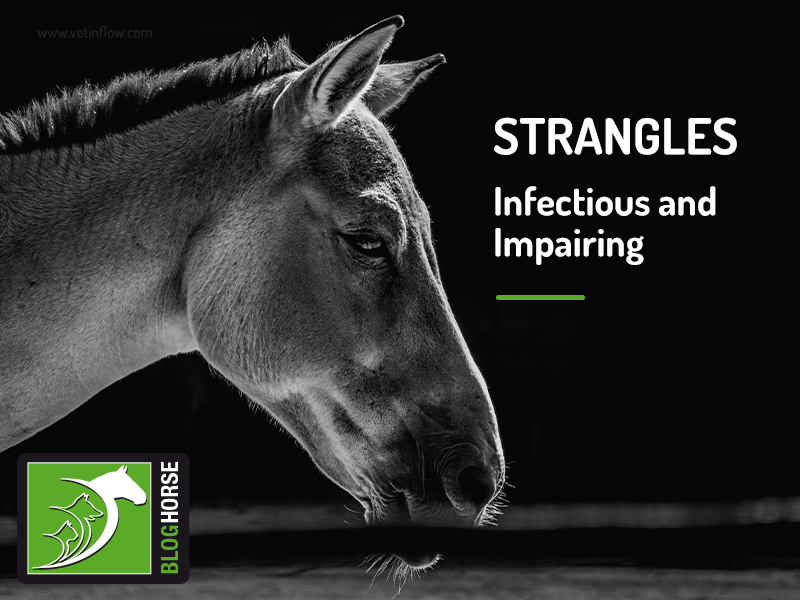 Strangles, also known as Equine Distemper, is an infectious disease that all horse owners should be aware of. It's caused by a highly contagious bacteria from the
Streptococcus equi equi
species that can be found all over the UK.
This disease can be easily transmitted through contact with infected animals or contact with shared surfaces such as feed or water containers. Movement of animals and people without any decontamination process from contaminated areas to disease-free locations is also an important route of transmission.
Keep an eye out for possible signs and infected animals
Both horses and donkeys can be infected, and clinical signs vary in severity, with younger animals being more likely to develop severe signs.
The body reacts to this infection by producing pus-filled abscesses that are painful and hot to the touch. After several days, these usually appear around the head and throat.
Besides abscesses, the most common signs include:
-
Fever;
-
Loss of appetite;
-
Lethargy;
-
Pus filled discharge from the nostrils.
It's unlikely that strangles will cause lethal complications. However, about 20% of infected horses experience difficulties eating or breathing. Less frequently, abscesses might spread all over the body and, in rare cases, they might even appear in the brain. Other rare complications include spotted bleeding on the skin as well as swelling of the limbs and head.
Treatment
Treating this condition involves plenty of rest, a warm, dry bed and anti-inflammatory medication for pain.
Once the abscesses have fully matured, your vet may choose to open them or wait for them to burst on their own, which will facilitate cleaning and recovery.
Antibiotic use needs to be considered on a case-by-case basis, as it may delay recovery.
What can you do?
If you suspect one of your horses might be developing strangles, it's crucial that you contact your vet without delay!
Strangles spreads quite quickly once there is nasal discharge and having just one sick horse might put your whole herd at risk. Not only that, but other stables might also be at risk if people, equipment or animals are moved around without following proper biosecurity protocols.
Isolating infected animals for the correct period of time, running the necessary tests to make sure they are no longer shedding the bacteria, and cleaning clothes, utensils and supplies before seeing to any other horses are imperative to stop the spreading of this disease.
Coordinate with your vet on how to best tackle this highly infectious problem.
Would you like to know more about horses? Check our Equine Courses: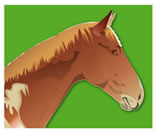 Equine courses