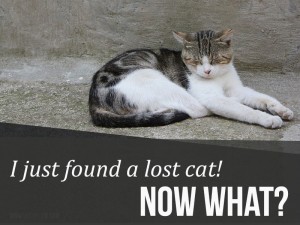 Reading this post might be useful if you ever try to help a cat that seems to be lost, in need of help or if an apparently stray cat seems to be trying to move into your home.
When you find a stray or lost cat it's important to figure out if the cat is really lost or if the cat is really a stray. It's not uncommon for cats with a home to roam often for days at a time. An average cat can roam more than 600 ft from its home, spending time hunting, visiting other people's houses and managing territory issues with other cats. These cats as well as feral cats, who usually can take care of themselves, often look good and cared for.
Cats that are really lost and in trouble will often look underweight and have a dirty, un-groomed coat, as they often struggle to find food and shelter. These cats can be very friendly or in some cases be suspicious or scared, generally keeping their distance.
In order to try to locate the owner (if there is one), you can talk to neighbours around the area to find out if someone recognises the cat and you can take it to a local vet and ask to check for a chip. If the cat is chipped and if the data on the microchip database is up to date you'll be able to find the owner.
If you are unsure if the cat has an owner or not and you are able to physically interact with the cat, a good strategy is to put a paper collar on it to try to contact the owner. You can find great collar instructions on the RSPCA website. Please click on the link below and have a look:
http://www.rspca.org.uk/servlet/BlobServer?blobtable=RSPCABlob&blobcol=urlblob&blobkey=id&blobwhere=1164732651162&blobheader=application/pdf
You can also try to spread the word about the lost cat since in many, many cases these lost pets have a distraught owner looking for them as well. You can put up posters with a picture of the cat and your contact details, contact local vets and rescue centres since these usually keep lost and found lists and you can try to spread the word online. You can use social media networks like Facebook or local lost and found pet websites to try and reach the owner.
If you cannot find an owner and you are not able to keep the cat you can try to contact a local charity (RSPCA, Cats Protection, etc.), a rescue group or a local animal shelter. If you fall in love with the furry feline and decide to keep it, please make sure you take it to the vet for a check-up and to be chipped. A microchip is more than often a pet's last chance of ever being returned back to its owner.

Would you like to know more about cats? Check our Feline Courses: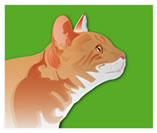 Feline courses