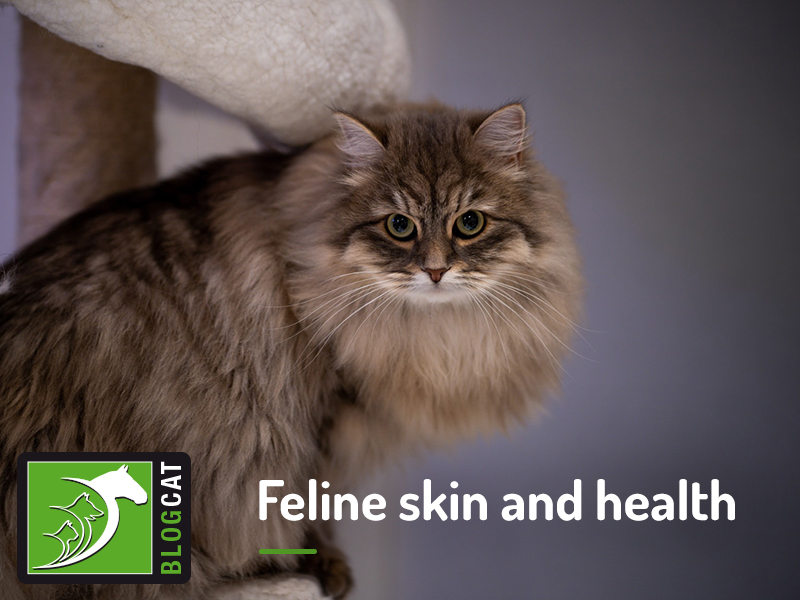 What is so great about a cat?
There is no right answer to this question as there are so many facets of this species that fascinate us – their independent nature, yet the strong bond that unites us, their elegant grace, yet their clumsy antics, their ruthlessness as predators, yet their gentle affection towards their favourite companions.
But today, we're going to focus on one, which is their silky, lustrous coat.
The coat and skin can tell us a lot about a cat's health, as there is a number of diseases, and skin conditions that can manifest with skin lesions.
Before we get into it, here are
three curious facts about the skin
:


It is one of the body's biggest organs;


It is composed of three different layers, each having a specialised cellular population and function;


In conjunction with the coat, it is the first barrier of defence against all kinds of external aggression (sunlight, temperature, bacteria, chemicals, trauma, …).


Healthy coat and skin
For your cat to have a healthy coat and skin, there is one essential factor: adequate nutrition. Feeding your cat with a high-quality, nutritionally balanced diet, containing essential fatty acids, zinc and other minerals, will not only promote your pet's overall health but will result in a beautiful coat and healthy skin as well.
Dermatological problems
However, even with proper nutrition, there are some diseases that can affect your cat's skin and coat that you should be aware of as a responsible owner.
As we have mentioned before, these can be either directly related to the skin or can be a manifestation of an underlying condition that also create skin changes.
Let's go over some common examples:
Localised skin conditions


External parasite infestations, such as fleas and mites


Contact allergies


Traumatic injuries, such as cutaneous wounds, and infections


Acne


Systemic diseases that manifest with cutaneous lesions


Hormonal diseases, such as diabetes and hyperthyroidism


Chronic kidney disease


Food allergies


Stress-induced alopecia


As all of these can cause similar skin lesions, the only way to know which is one affecting your cat is with the help of your vet.
Common cutaneous signs include:


Erythema (redness)


Dry skin, scaling and crusts


Thick or thin, non-elastic skin


Broken skin, inflammation and infection


Itchiness


Poor coat


Alopecia (hair loss)


If you recognise any of these or notice that your cat is excessively grooming, biting or scratching themselves, don't hesitate to seek veterinary assistance.
Would you like to know more about cats? Check our Feline Courses: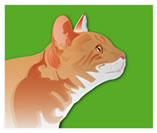 Feline courses