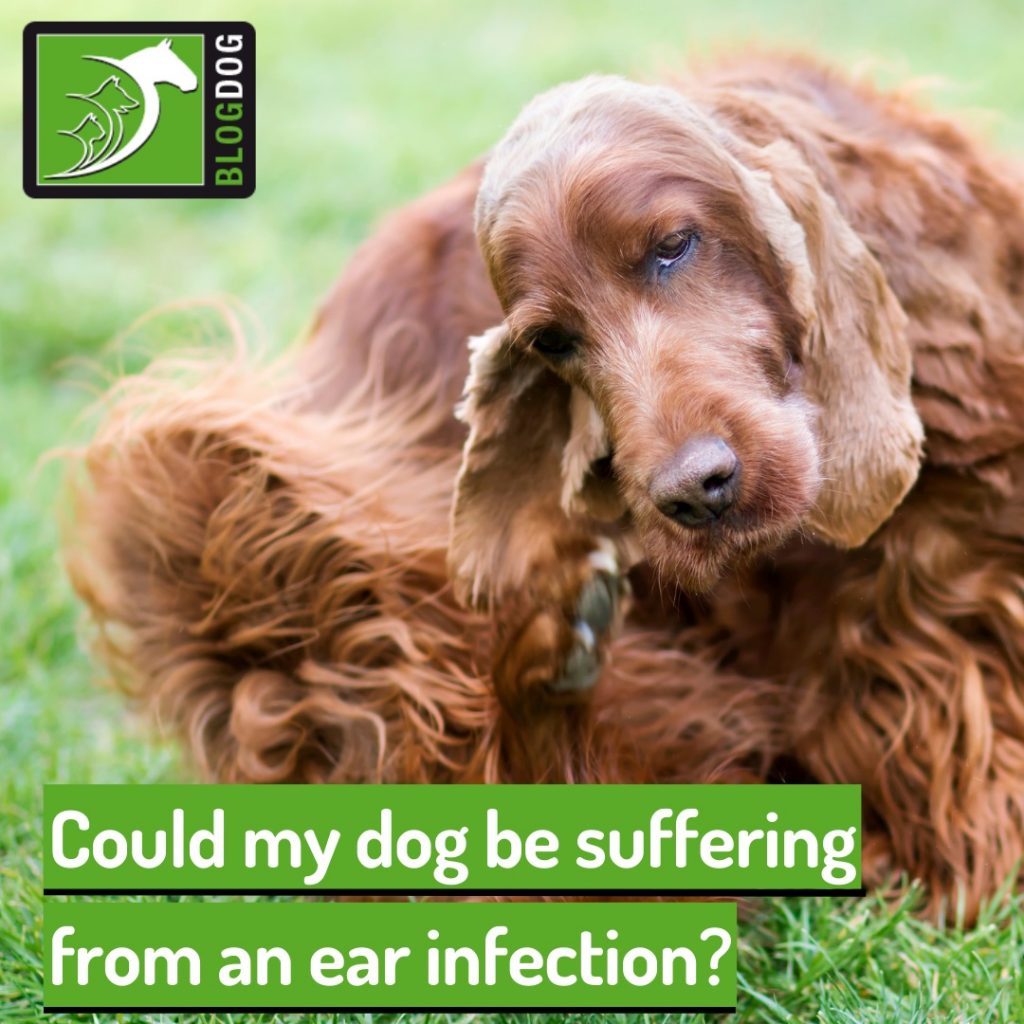 Have you noticed your dog shaking their head more than usual and constantly scratching their ears? This often means that they have an ear infection and need to be seen by a vet.
Keep reading to find out more about ear infections and what you can do to prevent them.  
What is an ear infection?
Ear infections are common in dogs, especially those who suffer from other skin problems, such as allergies, and those with long, floppy ears like Cocker Spaniels.
There are a number of microorganisms that live in the healthy ear and that are harmless to our pets. However, if something happens that changes the normal ear environment, this balance can be disturbed, and the bacteria and yeast that live in the ear canal can multiply and cause an infection.
Irritation, itchiness, and the trauma from scratching can all lead to infection, which is why it's so important to recognise signs of ear problems early on.  
What are the signs of ear problems?
Excessive scratching, which includes head rubbing on furniture or other surfaces and pawing at the ears, is usually one of the first signs of an ear problem. Other signs include:


Red, swollen ears


Ear discharge – purulent or tarry


Smelly ears


Head shaking


Pain and discomfort


If your pet's ears are painful, this is likely to affect their behaviour. You may find that they seem more withdrawn and avoid being petted on the head. Your dog can even become aggressive to avoid contact, so be careful when handling their sensitive ears.
If ear itchiness has been going on for a while, you may also notice outer lesions, such as bald patches and crusty areas around the base of the ear.
Another sign of chronic ear problems is a head tilt. If you see that your dog's head is tilted, this can mean that the ear infection has progressed to the inner ear, which can lead to serious conditions such as meningitis and vestibular disease.  
What to do if I spot these signs?
It's very important to seek veterinary help if you suspect that your dog has an ear problem or recognise any of these signs.
Usually, the earlier ear infections are diagnosed, the easier they are to treat, and chronic complications are less likely to develop.
Ear treatment needs to be prescribed by your vet and usually involves a combination of ear cleaning and medicated ear drops. Additional oral medication may be necessary for dogs with complicated infections or even surgical solutions for chronic cases.
If your dog is in pain, it can be challenging to handle their ears as they can run and hide or even try to bite you. Proceed with caution, gently and do not rush, and if you are struggling, ask your vet team for help.  
What can I do to prevent ear infections?
Diagnosing and treating skin problems
As we have mentioned, ear infections usually develop as a consequence of irritation, itchiness, inflammation, or trauma. This means that there is an underlying problem that needs to be addressed.
Anything that causes itchy skin, from fleas to allergic disease, can lead to an ear infection, so one of the first steps to prevent this is to find out what could be behind this problem.
Once your dog has been diagnosed, if their condition is well-managed, ear infections are likely to be under control as well.
Periodic checks
Having a look at your dog's ears regularly can help catch inflammation and irritation before they progress to infection.
If your dog has long ears that cover the entrance of the ear canal, like the Basset Hound, we'd recommend checking them more frequently. This type of ear shape makes them more prone to develop infections, as the temperature and humidity conditions of their ears are ideal for bacterial and yeast proliferation.
We'd recommend the same for dogs diagnosed with a chronic skin condition, such as allergies, as they're also more likely to have ear infections.
Hygiene and cleaning
As a dog owner, you may wonder how often you should bathe your dog and clean their ears. The truth is the answer to this question is highly variable.
It is important to be mindful of your pet's general hygiene condition. If you go out on a walk and they're covered in mud, a bath is due. If you notice that their coat feels oily and that they don't smell great, those are good reasons for a bath as well. The point is: bathe your dog only if they need it, but be mindful of not letting water or shampoo get into their ears.
The same is true for their ears. If you find excess wax or a strong odour, it's advisable to clean them with a good quality ear-cleaning solution. Otherwise, the ear has its own cleaning mechanisms in place, and over-cleaning can cause irritation. Your vet can help you decide if and how often your dog's ears need to be cleaned.  
We hope you find this article helpful! Don't hesitate to reach out to your vet if you suspect an ear infection or if you have any questions regarding your dog's ear care.