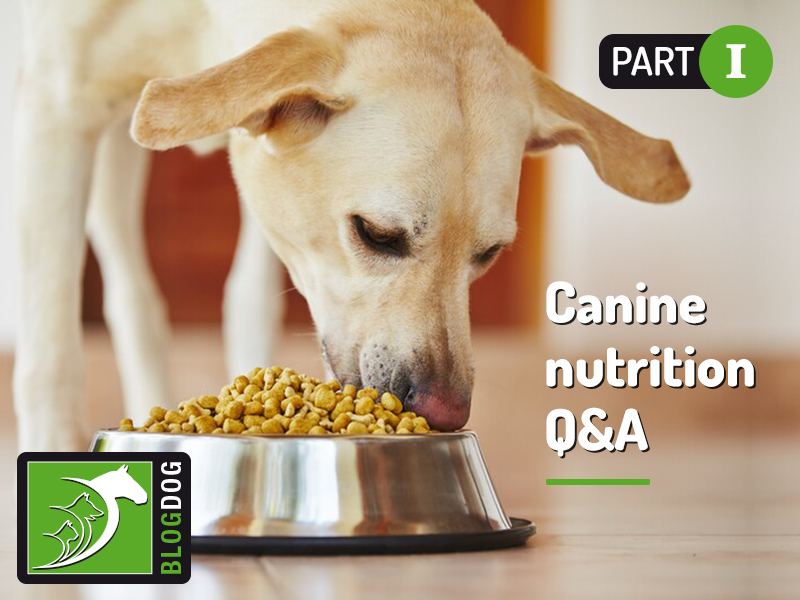 We are what we eat, and the same is true for our four-legged friends.
We can't stress enough how much a balanced diet is important for your pet's health, so we've prepared a Q&A for you with common questions dog owners have regarding their pet's nutritional needs!  
#1: What should I feed my dog?
With the growing number of commercial diets available, choosing the best one to feed your dog can be challenging! On top of that, there are many factors that need to be taken into consideration, such as life stage, lifestyle and breed/size, for example.
Puppies, pregnant or lactating bitches, and golden oldies all have different energy requirements. Take puppies, for example. As growing animals, puppies tend to have bigger nutritional needs than adult dogs, but keep in mind that this does not translate to a greater quantity of food on their plate! The daily amount of food needs to be calculated based on the puppies' size and age, and puppy diets are already formulated to be higher in calories.
As for his lifestyle, is your dog sedentary, or does he regularly accompany you on your outdoor adventures? What's his overall activity level? The number of calories your pet burns during the day is also a factor to take into account, and there are diets specifically formulated for active dogs, which are higher in calories.
Regarding breed, small breed dogs can have difficulties eating and even choke on regular-sized kibble. Puppy kibble is smaller in size but, as we have discussed, higher in calories, so it will not be appropriate for an adult dog! There are diets specially formulated for small breed dogs, which have smaller kibble and balanced nutritional value. As for large breed dogs, they may benefit from a diet that includes some kind of joint support supplement.
If you're not sure what's the best option for your pet, don't hesitate to ask your vet for advice.  
#2: How much should I give my dog to eat?
The factors we've just covered above will influence the amount of food your dog needs to eat every day as well.
After calculating his daily nutritional requirements, you'll probably want to have part of those calories allocated as a treat allowance, which can be up to 10% of your dog's total energy needs. This way, you can give your pet treats without exceeding the daily requirements and make sure your dog stays at a healthy weight!
For instance, if your pet needs 1000 kcal per day, up to 100 kcal can be treats. The remaining 900 kcal should consist of your dog's regular food and should be divided into the number of meals you intend to give your dog during the day. If you're planning on giving him food twice a day, each meal would consist of 450 kcal. If you'd like to feed him more often, three meals of 300 kcal each would be an option.
Your vet can help you make these calculations and find the equivalent weight or volume of food, so you won't have to worry about counting calories every time you feed your dog!  
#3: Should I opt for a homecooked diet instead?
Homecooked diets can be valuable in a number of situations, especially if your pet is sick. However, as a long-term option, it is not easy to create a balanced diet from everyday food, and you'll probably need  to include mineral and vitamin supplements. Make sure to always check with your vet first as an unbalanced diet will harm your dog's health.  
By now, you've probably realised that nutrition is not a black and white subject, so stay tuned for part II and, if you have any questions, make sure you discuss them with your vet!
You can find the
2nd part
of this article on
this link